Phil Collen Interview (Manraze, Def Leppard)
November 13, 2013 | By: admin
---
Phil Collen Interview
[youtube id="Fds5coMDhCM" mode="normal" align="center"]
On Tuesday afternoon, I had the pleasure of talking to Phil Collen, guitarist of Def Leppard and member of the group Manraze.
Mr Collen, thanks for talking to Rock Industry.
Pleasure mate.
So, how did Manraze come about?
Sure, 2004, I was in the States, when I got news that my Dad had 2 months to live. So I went over and stayed with my Dad, you know. Make sure he's ok. And we had a wonderful time, it was great, apart from the obvious. In that time me and Simon Laffy, we reconnected and started writing some songs. During that time I said it would be really cool if Paul Cook was a drummer on this.
I literally ran into him on the street, he was getting in his car, I hadn't seen him in couple of years. I said we were just talking bout you, do you want to come down to a rehearsal or something. and that was just it, it really clicked.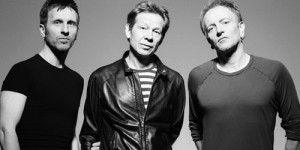 I've listened to your single, and it's really diverse; each song seems to be a different genre.
We started writing, really… different songs. we had, no boundaries. we could write something that was rock orientated, could go a bit punky, go a bit reggae. There was always kind of restrictions, certainly in Def Leppard, or any other successful band, after a while you start to hit a formula. The fans want to hear a certain thing, you cant really be a experimental as you'd like to be. we suffered that in Def Leppard a lot, we talk about it often.
In Manraze, it was completely different. There was a freedom there that we weren't allowed in other bands we were in, it just started clicking. This song I Surrender is actually 8 years old; we couldn't get it just right, the right ingredients; there was something really special about it, until last year when I was on tour with Def and I sang this new chorus; we kept the original drum track, but we did all the guitars, and vocals, added Debbie Blackwell-Cook who you hear at the end of it, and also one of the other tracks, we thought its a really strange way round; this time the song came after us! it made it really cool and special in its whole concept.
On your single I Surrender, you said there it was written 8 years ago, is the songs themes and lyrics tied in any way to the health issues your dad was having at the time?
Not so much, but I can see where you'd think it could be… there was a point with my dad were he did have to surrender to it, accepting his fate, like everyone does you hang to life in anything… but its more a general thing, confronting denial. It is about that in one respect. some people never confront some things about themselves, its more about a broader thing, But absolutely totally related to that with my dad. It's interesting you should say that, cause I hadn't thought of it like that, I hadn't made that connection. Subconsciously it does fit, the song being about coming to terms with yourself.
Obviously you still do a lot of work in Def Leppard too – I just reviewed your Viva Hysteria tour and saw you at Download not too long ago. There's a lot of bands form the 80s that have fallen away or really stopped trying; watching you guys now is like watching Def Leppard. How do you keep that going?
I think one thing with Def Leppard is we've had massive highs and really extreme lows—-more so than a family cause we've been together longer than most families have. I think theres a fighting spirit, that we have that a lot of other bands don't. In the 90s, after the whole Nirvana thing happened – I love Nirvana and some of those bands – but it really changed the landscape, and I think a lot of people bottled out – they didn't have the courage to carry on. In the states a lot of these so called metal bands went a way to Nashville and became country musicians; no one really had the balls to carry on.
Def Leppard, we just soldiered through it. there were a few years that were kind of lean, we actually thought it was on a decline. something happened in the 2000s, a couple albums got multiplatinum status and it all turned around. I think thats what it is; we never gave up and kept pushing forward. We had balls.
Others were to busy acting like rockstars or divas, getting upset at little things. we never really did that. we just worked, or else we wouldn't know what to do. It's down to what we'd experienced before, we weren't gonna give up. It really paid off. we love playing, we thoroughly enjoy it. I honestly think some of the Viva Hysteria stuff is the best live recording we've ever done. Im thrilled at how that turned out.
Def Leppard still tour all the time, and Paul Cook has Sex Pistol commitments. How is it running a band when two members have other families?
I think its really cool cause theres no real pressure; we create our own. I'm actually doing another project called Delta Deep, a real extreme blues project. Its got Debbie Blackwell-Cook who you hear singing on the new single, she's got this amazing voice, a cross between Tina Turner and Chaka Khan, this incredible powerful voice.
We're doing this blues album, Paul Cook's on one of the tracks, Simon's on another one- thats constantly going. i actually get inspired by doing lots of things. I'm constantly writing, and I'll be with Def Leppard and think that won't work for Def Leppard, but it might go in Manraze, but now I've got a third outlet. i had an injury on my tendon, and i couldn't really play guitar, so i learned to play slide. you have to do whatever you can when it appears; when inspiration rears its heads, you have t take advantage of that. I think when you don't do that, you miss a golden opportunity. For me there's this great artistic fulfilment in writing and working on songs.
We touched on inspiration and influences there; any distinct moments that have inspired you?
i constantly have moments; me and my wife Helen, we met this lady last year, she was in Rwanda when everything went off. Her whole family was slaughtered, they chased her down and a religious pastor form the other tribe, hid her in a cupboard in a bathroom; she was there for 90 days with other woman, people outside hunting for them. she was the most amazing woman, coming out of that, she was at dinner with us and telling us about this book, it was really inspiring.
Things like that, thats your fortunate enough to meet people like that have such a lasting effect on how you approach things. i think the beauty in being in a band and able to travel is you get such profound experiences that effect your life and your approach. I'm really pleased that I'm able to have these experiences, its really cool.
80s rock bands that play today have this huge audience made up of modern metal fans; any personal theories as to why that is?
We are a rock band. if you're a fan of rock or metal and you saw AC/DC or The Who in their heyday, theres a good chance you're gonna go "Jesus, this is fucking amazing!" This is the X factor that a lot of bands don't have, it crosses across the board.
Last night i met Adam Levine, who's the singer in Maroon 5, he said he has the most amazing story, the reason he started singing he went into a talent competition, was gonna sing Pour Some Sugar On Me, when the music stopped he carried on singing, he knew all the words, and got this amazing reaction, from the people there. It was a junior school or something. he had such an amazing reaction he went, wow, this is what i want to do. In that moment, Def Leppard actually made me want to do that.
When you say that about the metal community, it is more true, but it reaches further. Maroon 5 are a pop band, a very successful pop band, and we get these songs with hooks and it crosses the board. When you get that experience of a live band, we've always kept the live show up, we've never let that slip away, tried hard to song better. We always use our real vocals. there's an integrity that even some metal bands don't have and i think they can see that and i think they respect it. i think thats why I think you can end up doing some of these metal festivals and go down a storm, it's that integrity part.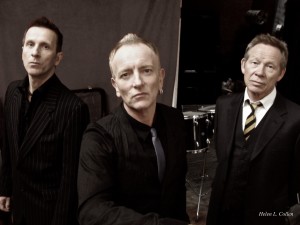 Any modern bands that you listen to?
Well, i listen to EVERYTHING. we just saw Stanley Clarke; it jazz on an upright bass and i just loved it. i cant think of any brand new bands, cause its, when the industry changed and it became more digital, the motivation to be an artist or a band member went to someone who wanted to be famous. they wanted attention. when we started we wanted a concept around the music. I remember me and Joe Elliot talking about the live show. we were like little kids talking about when we headlined, how the live show would look a certain way. i think the bands now that just want to be famous and get attention, theres this whole part thats missing, where people just want to be on telly.
…the X Factor,?
Absolutely. They don't want to write songs and share it. It's like when i was writing I Surrender, me and the band had this whole thing were we wanted to get the song right and we cared about it, iI feel this who part of it isn't there anymore. thats why I don't listen to many new bands, .
Having said that, there's a new band called The Stripes, they sound pretty much like a 60s, early Stones, Beatles, The Pretty Things, and they're like 16 years old form Ireland. They're great, so every now and then you kinda hear of a band like that, that'll continue writing good songs and get better as they go on, but it's a tough one, its hard to find people who really care these days, you know?
On that note, any words of wisdom for aspiring rockstars?
Yeah! Don't expect to get paid for it. The fulfilment should come with the joy you get from doing it. Never before does that resonate more than these days. If you get paid, great, that's a wonderful bonus. but you shouldn't think you're gonna make a ton of money, you'll be disappointed.
Cheers for talking to us, best of luck with the single.
Absolute pleasure.
By James Swan
Buy Manraze's I Surrender on [itunes link="https://itunes.apple.com/gb/artist/manraze/id433910137?uo=4″ title="Manraze i Surrender Single"]