Pennywise – Yesterdays Album Review
July 2, 2014 | By: Martin Said
---
Pennywise – Yesterdays.
It's true what they say, you just can't beat the old school. In 2014 punk rock means something different to what it meant in the 80's and early 90's. A simple Google search for "punk rock bands" today brings up the likes of blink-182, Green Day, Fall Out Boy, and even All Time Low. Although it's these bands that rather confusingly litter the genre today, it's good to know that there's still a space for the originals to have a go, and to show their under-studies how it's done. This is where we come to the latest release from veteran US punk band Pennywise, in the form of the compilation album Yesterdays.
In many ways, Yesterdays is not only the perfect love letter to a Pennywise fan, but any general fan of punk rock. Including songs written from 1989 and beyond, this short and sweet record perfectly captures the sound of a genre when it was at the peak of it's life. No bullshit, just choppy riffs and grinding drum beats, just as it should be. If there's a record that encapsulates actual punk rock in 2014, this is it. Like a fine wine the genre just gets better with age, and Yesterdays is the cellar that this wine has been sitting in for the past 25 years.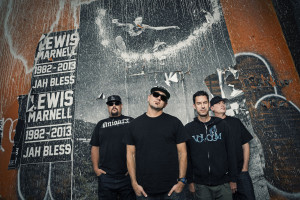 Despite it's specifically targeted sound these 11 tracks stay consistently catchy and spit enough venom to keep you hooked through their whole 30 minutes. What You Deserve will be one of the catchiest tracks heard in a long time, lead single Violence Neverending is a circle pit enducing anthem, and final track I Can Remember borders on pop-punk territory, rather fittingly as that's the genre that overtook the likes of Pennywise shortly after their height of fame. As mentioned before, this is a compilation album and features tracks written as far back as 1989, one year after the band formed. It showcases compositions from the bands late bassist Jason Thirsk and also marks the return of founding vocalist Jim Lindberg, after his short leave of absence from 2009 to 2012, with gives more meaning to analogy of it being a love letter to Pennywise fans.
Whereas other punk bands have tried to experiment and broaden the genre, Pennywise have kept it simple over 26 years, and continue to stick to their guns. Listening to Yesterdays genuinely feels like you're skating through a parking lot in California in 1991, and that's exactly what's so great about this vintage genre. Through its simplicity, it still manages to paint pictures and make the listener feel a certain way. We like to expect experimentation and progression with near enough all genres of music, but punk rock is something that just shouldn't be tampered with. It's stuck in its own era and that's what we love about it, and it seems Pennywise agree.
Verdict – 4/5
You can catch Pennywise on tour with Rise Against in the UK this November! Yesterdays will be released on July 15th and you can pre-order it here.