Download 2013 Review: Rammstein
June 20, 2013 | By: James Clarke
---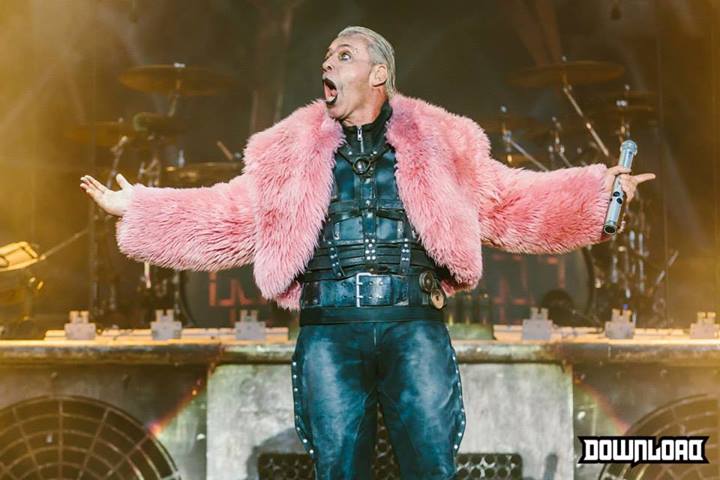 (Photo credit: Andrew Whitton)

It's safe to say that the choice of headline acts at Download 2013 was an un-relented, no-holds-barred, star studded, monster of a lineup. Each headliner was a world class act and something that will be hard to top in years to come. Nobody would expect anything less than incredible performances from Slipknot, Iron Maiden and Rammstein. Incredible performances were what we got from Slipknot and Iron Maiden, but not Rammstein. Rammstein took it to a whole new level. Rammstein were the best headline act that I have seen grace a festival stage, and that's saying something.
Rammsteins performance was utterly flawless, the vocals, the instruments, the pyrotechnics and the acts were all just perfect. A lot of bands break up the performance with speeches, but not Rammstein. They played through their entire set song after song right to the end with no fancy en-core just playing through their allotted time giving the fans a massive hour and thirty minutes of pure Rammstein. Only to finish with a humble "Thank you".
Opening with 'Ich tu dir weh' lead singer 'Till' descended from the rafters of the huge Download stage on platform wearing a pink fluffy jacket over the top of his industrial leather costume. They went on to play a mix of songs from their older albums including 'Keine Lust' then working up to the massive 'Feuer frei!'. Before long the crowd was treated to the song that everyone knows even if you're not a Rammstein fan; 'Du Hast'. Further crowd pleasers followed in the forms of 'Ich Will', 'Sonne' and 'Pussy'. We would have liked to have heard the new track 'Mein Land' and the older song 'Amerika' but we can't complain with what we were given.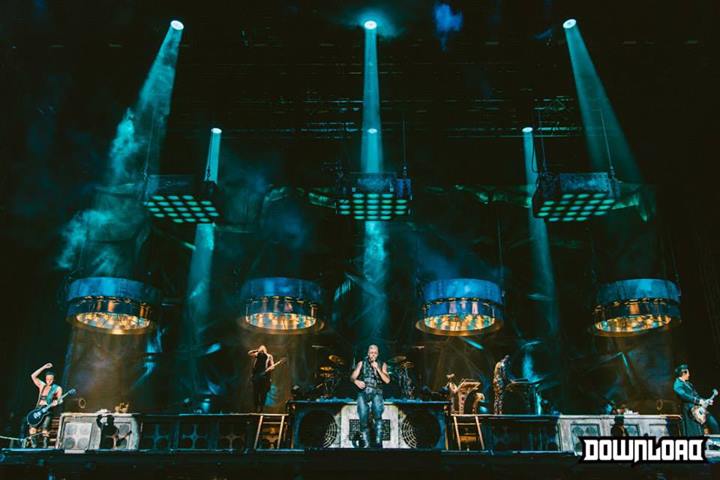 (Photo credit: Andrew Whitton)
Delivering a flawless musical performance is one thing and a lot of bands these days don't manage that standing perfectly still on a standard stage. What makes this performance so special is that this was anything but a standard stage or show. This was an unparalleled performance on a stage that was literally exploding every 30 seconds, countless flame throwers surrounding the band who were also putting on a rehearsed act. This act involved setting a band member on fire, doing unspeakable things to another band member who was crawling around in a gimp suit, firing pyro over the crowd and riding a penis cannon around the stage spraying what we hope was foam over the crowd. At one point keyboard player 'Flake' began making a screeching sound on his keyboard at which point singer 'Till' walked over a slapped him round the face stopping the noise, this little act reminded me of Mr Beans hilarious Olympic ceremony performance. There was also the unforgettable moment during Du Hast where 'Till' picked up a crossbow and fired wire-guided pyro at the sound tower which exploded then sent more pyro back towards the stage which then exploded again triggering glittery fireworks to cover the stage.
No band could have ended this festival better than Rammstein. Overall, this performance was them at their very best, a true honour to have witnessed.